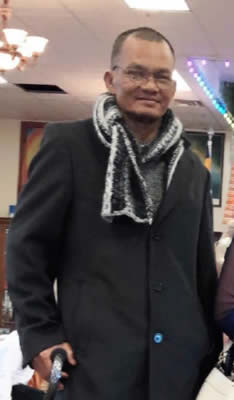 Yoeur Nov
LOWELL Yoeur Nov, 58 of Lowell, passed away Friday, August 16, 2019 at Lowell General Hospital. He was the beloved husband of Ravy Suon, with whom he shared the last 36 years.

He was born in Koh Kok Village, Cambodia on February 5, 1961 and was a son of the late Meas Yut and the late Ouk Sin.
He is survived by his daughter, Rada Nov and her husband, Kalvin Huoth of Lowell; her son, Ramy Nov of Cambodia; and two grandchildren, Alex and Alleigh Huoth of Lowell. He is also survived by his siblings and extended family in Cambodia.
ON SUNDAY, AUGUST 25, 2019, HIS VISITATION WILL BEGIN AT 2:00 P.M. AT GLORY BUDDHIST TEMPLE, 24 CAMBRIDGE STREET, LOWELL, MA.
ON MONDAY, AUGUST 26, 2019, HIS FUNERAL PROCESSION WILL BEGIN AT 7 A.M. AND FOLLOW TO MERRIMACK CREMATORY, 10 HENRY CLAY DRIVE, MERRIMACK, NH.