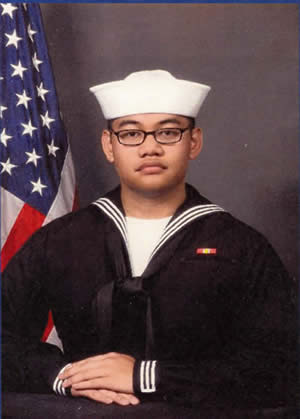 Nathan V. Nissay

LOWELL Nathan V. Nissay, 19, of Dracut, died Monday, December 30, 2013 in Saratoga Springs, New York. Nathan held the rank of Petty Officer Third Class in the U. S. Navy.
Born March 21, 1994, in Lowell, Massachusetts he resided in Dracut.
He is a son of Nissay Liek and Sonamaran Keo, he attended Dracut High School, graduating with the class of 2012.
Nathan graduated from the United States Navy's Officer Nuclear Power School at Naval Nuclear Power Training Command in Goose Creek, South Carolina, was currently attending Naval Propulsion Training Center in Saratoga Springs, New York.
In addition to his parents, Nissay Liek and Sonamaran Keo of Dracut; he is survived immediately by his sister, Sonamara Nissay and her husband, Chhoeung Nem of Atlanta, Georgia; a brother Ravibol Nissay and his wife, Sokhadalyce (You), and other relatives in the Massachusetts area and Cambodia.
YOU ARE INVITED TO HIS VISITATION ON SUNDAY, JANUARY 19, 2014 FROM 8 A.M. UNTIL 9 P.M. AT THE GLORY BUDDHIST TEMPLE, 24 CAMBRIDGE STREET, LOWELL, MA 01852. ON TUESDAY, JANUARY 21, 2014 HIS FUNERAL CEREMONY WILL BEGIN AT 7 A.M. AT THE MCDONOUGH FUNERAL HOME, 14 HIGHLAND STREET, LOWELL (978 OR 800) 458-6816. A PROCESSION WILL FOLLOW FOR BURIAL AT WESTLAWN II CEMETERY. PLEASE VISIT WWW.MCDONOUGHFUNERALHOME.COM TO SEND THE FAMILY AN E-CONDOLENCE.