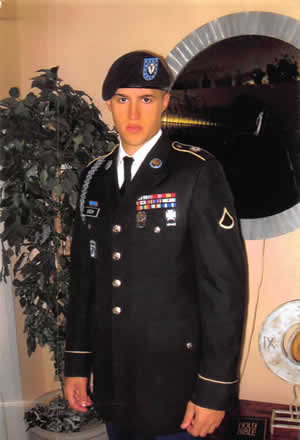 Joshua Ted Stein
LOWELL Joshua Ted Stein, 26, of Lowell, passed away at his home with his family by his side after a battle with ALS on Saturday. He was the beloved husband of Katherine (Larson) Stein.
A son of Saul Stein and Mary (Finnerty) Stein, he was born on May 28, 1991 in Philadelphia, PA. He grew up traveling around the country, eventually settling in Lowell, where he was educated at Lowell High School. Following high school, he enlisted in the United States Army serving in Afghanistan. He was honorably discharged from the Army, and briefly lived in Florida before returning home to Lowell.
Joshua enjoyed sports, especially football. He loved spending time with his friends and family and could frequently be found at the gun range. He also enjoyed traveling, country music, and going for a drive.
Besides his wife, Katherine, of Apex, North Carolina, and their expectant child, he is survived by his mother, Mary Stein, and her companion, Charles Arsenault of Lowell; his father, Saul Stein and his wife, Linda, of Florida; his grandmother, Darlene Stein of Florida; his brothers, Douglas Stein of Florida, Robert Stein and his wife, Nikki, of Lowell and their child Benjamin Stein, his sisters in law, Kristen Larson and Victoria Larson, both of Florida; his brother in law and best friend, Timothy Larson of Florida. He is also survived by his mother in law, Beth Larson of North Carolina and his father in law Erik Larson and his wife, Ledy Ochoa of Florida.  In addition he is survived by many aunts, uncles, and cousins, including Brian LeDuc of Lowell.
He was the grandson of the late Alvin Stein.
YOU ARE WELCOME TO ATTEND HIS VISITATION ON FRIDAY, OCTOBER 13, FROM 4 UNTIL 7 P.M.  AND HIS FUNERAL SERVICE WHICH WILL BE HELD FRIDAY AT 7 P.M. AT THE MCDONOUGH FUNERAL HOME, 14 HIGHLAND STREET, LOWELL 978-458-6816.
PLEASE MAKE DONATIONS IN HIS NAME TO: ALS ASSOCIATION, PO BOX 37002, BOONE, IOWA 50037-0022.