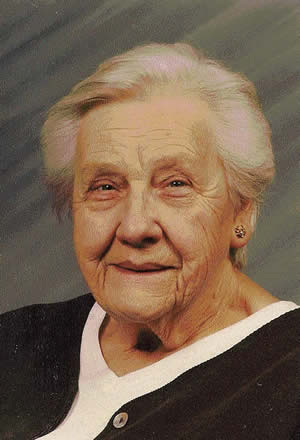 Jeannette Cecile Regis
LOWELL      Jeannette C. (Lalime) Regis, widow of George J. Regis, died at the age of 97 surrounded by family after a lengthy illness. She was the sister of the late Claire Boucher and Henriette Lalime. 
    A daughter of the late Rudolph Lalime and the late Louise (Doyle) Lalime, she was born May 8, 1920, in Lowell, and was educated in the local schools. 
      Jeannette was an active participant in the fight to understand mental health. She served on the board at the Renaissance Club as a consumer representative and was a member of NAMI, (National Alliance on Mental Illness). 
        She lived most of her life in the Acre section of Lowell bringing up seven children. She was a quality seamstress and did work for several people through her life including the Sacred Heart Band of Lowell. 
        She leaves her children, Roger Regis and his wife, Joanne, of Billerica, Louise Gagnon of Derry NH, Claire (Abreu) Wirtanen and her husband, Tom, of Lowell, Anita Hill and her husband, Don, of Methuen, George Regis of Lowell, Peter Regis and Christine Lovering of Aiken, SC and Michael Regis of Dracut.  
        She also leaves several grandchildren and great grandchildren.
       You are invited to Jeannette's wake at McDonough Funeral Home at 14 Highland St., Lowell MA 01852  from 9:00 am to 12:30 pm on Monday March 12, and followed by her service at the Funeral Home at 12:30. Burial will follow at St. Joseph Cemetery in Chelmsford. In lieu of flowers a donation can be sent to NAMI, 3803 N Sairsax Dr., Suite 100, Arlington VA 22203.