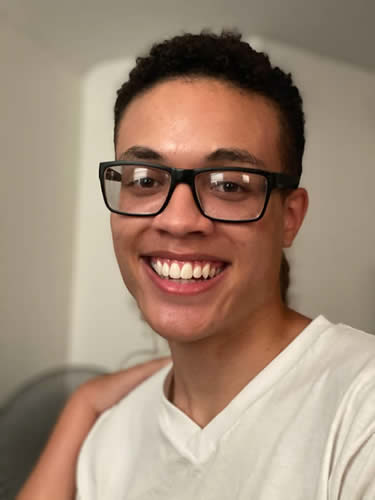 Gabriel Cuevas, 17
Beloved Son, Brother and Friend
Gabriel Cuevas of Lowell, Massachusetts died on Friday, August 7, 2020 in a drowning accident.
Born in Lowell on April 20, 2003, the son of Carmen Sanchez. Everyone who came into contact with Gabriel remembered him as one of the kindest people they had ever met.
He attended the Lowell Community Charter Public School (LCCPS) for elementary and middle school, and was about to begin his senior year at Lowell High School. He loved to travel and enjoyed trips to New York City and Washington, D.C. He was very proud to have been nominated for the International Travel Scholarship during his freshman year, which allowed him to travel to Québec City, Canada for three days. He treasured the memories made there and wrote, "I wish to continue traveling and maybe go back to find the school ID that I lost while tobogganing!"
He was looking forward to serving as a leader within his school's Gay/Straight Alliance and helping to mentor younger students. "I learned how to become comfortable with myself, use my identity as a tool, and how to fearlessly be a leader. Three years is how long it took for me to come to this stage of my life." Excited to go to college, he had also been working on his applications. He dreamed of going to a different city or state for school to broaden his horizons and wanted to major in English, Communications, and/or Public Relations because he was very interested in media and literature.
He loved helping others around the community, and since 8th grade had been a very active and beloved member of Aaron's Presents, a local youth organization with this focus. As part of this program, he enjoyed going with friends to volunteer at the MSPCA--Nevins Farm animal shelter, cleaning up parks, going to musical theatre productions in Boston, and attending Tuesday office hours after school to work on SAT prep or just hang out and destress with friends. He had a deep love and compassion for animals, especially those in shelters or not treated well, and wrote, "I vow to rescue and nurture an animal in the future when the opportunity arises."
Most of all, though, he loved being with his family. He knew when his mom was down or tired and used to come into her room to ask if she wanted to watch a movie. He loved romance and funny movies and it was a way that they shared their unbreakable bond. "I'm going to miss my fashion police/hairdresser," his mom wrote, "He was a loving son that had the most passionate, thoughtful smile that would light up a room just by walking in. Gaby always would help others who needed help. He had a confident stride with every step. Gaby would think about his family and the wonders that the future held. Gaby wanted to touch people in a way that would change their hearts, and he made that dream come true by changing the hearts in his family and close wonderful friends."
His older brother Jacob, also a senior, remembers "Gaby for his constant passion to take photos whenever I went on bike rides with him. He would always say that photos speak louder than words written on paper. Gaby also loved to bake and cook even though he wasn't an expert at it. He once tried to bake blueberry muffins but he put too much baking powder and they tasted like chalk."
His older brother Brian remembers him as "one of the best brothers I have loved. He was one of a kind. We would always play games and ride our bikes together. Gaby would love to cook with our mom and joke around so much and love to talk about everything. The one night I will always remember is when Gaby and I climbed on top of our shed and lay there for hours, looking at the stars and talking about life. Gaby was a person who would leave the front door open for any friends. He was really smart, kind and brave, and he knew how to get things done even if it was hard. Gaby was a godfather to my child and that will not change. I only wanted him and it will stay that way. I love Gaby so much; even if we had our moments, we would still sit down and talk. I hope Gaby is here with all of us, holding us and telling us not to cry, to hold in those tears, to put our chins up with our heads high up in the sky. He is watching us, caring for us, and loving us, but most importantly, Gaby is the first best friend and best brother I have ever had.
His oldest brother Kevin remembers "teaching Gaby to learn how to walk. It was the most joyful and adorable thing to see him start walking at just 8 months old. After that I would protect him from people who would hurt him or his feelings until he decided to protect himself and prove that walking wasn't his only achievable feat. Gaby would give me advice whenever I felt like I had made no progress in life. I loved to hear him talk about his amazing adventures, and I will miss him and his stories of the unknown world. He would geek out about new cars that came out and how they were slowly but surely switching to hydrogen cell or electric energy. He will be more than a memory; he will be a role model who was also my little brother."
Gabriel is survived by his mother, Carmen Sanchez, brothers Kevin Jordane, Brian Cuevas and Jacob Cuevas, and little sister, Bella McElroy.
Calling hours will be held from 11am-4pm on Friday, August 14, 2020 at McDonough Funeral Home at 14 Highland Street, Lowell, MA 01852 (978-458-6816). Anyone is welcome, but masks and 6 feet social distancing will be required.
In lieu of flowers, Gabriel's family would be honored if those who wish would send a donation in his memory to the MSPCA--Nevins Farm, 400 Broadway, Methuen, MA 01844 (https://www.mspca.org/adoption-centers/nevins-farm-adoption-center).