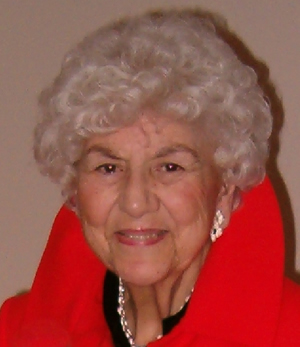 Frances G. Chiungos
CHELMSFORD Frances G. (Gianopoulos) Chiungos, 90, formerly of Chelmsford, died Monday, February 2, 2009, at Lowell General Hospital succumbing to Alzheimers Disease and its complications. Her husband, Constantine Chiungos, who was the owner and operator of the Lowell Dairy, died at the age of 44, and Frances succesfully raised her family as a widow with three young children.
A daughter of the late George and the late Jennie (Sioras) Gianopoulos, she was born August 27, 1918, in Boston, and was educated in the Boston School system, where she recieved the highest honors for excellence achieved in the study of American History. She was an assistant buyer for Filene's Basement until her marriage when she moved to Lowell to raise her family. She was a real estate broker in the Chelmsford area.
She is survived by her children, John C. Chiungos and his wife, Carmen Maria, of Westford, George T. Chiungos and his wife, Paula, of Huntington, Long Island, NY, and Dorothea Xanthakis and her husband, Demetrios, of New York City and Athens, Greece; six grandchildren, Sara Sorce, Jason Xanthakis, Byron Chiungos, Jessica Ross, Vanessa Xanthakis, and Dean Chiungos; three great grandchildren, Colin Sorce, Travis Sorce, and Sophie Ross. She was the last surviving child of George and Jennie and is survived by several nieces and nephews.
YOU ARE INVITED TO HER CALLING HOURS 4 UNTIL 8 P.M. ON THURSDAY.
ON FRIDAY, HER FUNERAL WILL BEGIN AT 11 A.M. AT THE MCDONOUGH FUNERAL HOME, 14 HIGHLAND STREET, LOWELL 978-458-6816.
HER FUNERAL SERVICE WILL BE HELD AT TRANSFIGURATION GREEK ORTHODOX CHURCH AT 12 NOON.
Church address for directions: Fr. John Sarantos Way (Clark St.), Lowell, MA 01854
BURIAL IN WESTLAWN CEMETERY.
MEMORIALS IN HER NAME TO ALZHEIMER'S ASSOCIATION OF MASS., 311 ARSENAL ST., WATERTOWN, MA 02472.