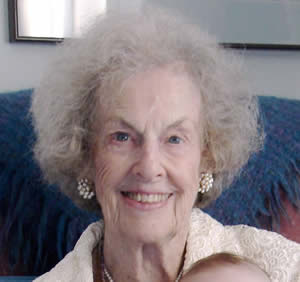 Anne Mary McDougall

QUECHEE, VERMONT Anne Mary (Moloney) McDougall passed away on Tuesday at the Clough Center at New London Hospital after a short period of failing health. She was 97 years old. Anne grew up and lived in Lowell for the majority of her life, raising her family in Pawtucketville. For the last years of her life she lived with her son and daughter-in-law, Frank and Deborah McDougall, and their family in Quechee, VT where she was always surrounded by family. She made frequent visits to be with her daughter, Maryann Mroczka and her children in Lee, NH and loved going on outings with them.
As well as her children she is survived by her brother and best friend, James B. Moloney of Lowell, MA, and seven grandchildren and their spouses, Robert McDougall of Burlington, VT, Peter and Jill McDougall of Burlington, VT, Michael and Emily McDougall of Rockville, MD, Stephen (Bo) McDougall and Katie Moquin of Castleton, VT, Sarah McDougall of Wilder, VT and John-Mac and Rose Mroczka of Lee, NH. Anne is also survived by five great-grandchildren, Eli and Noah Zhou, Jack McDougall, and Teddy and Louise McDougall). She also leaves many loving nieces and nephews.
Anne was predeceased by her devoted husband of thirty five years, Francis (Mac) McDougall and by her two sisters, Mabel (Mrs. David) Murphy and Claire (Mrs. Brendan) O'Neill and two brothers, Myles Moloney and Joseph (Leo) Moloney.
To her last days "Gram's" smile would light up a room, whether talking about her grandchildren's accomplishments on the athletic field or in the courtroom, or of her beloved Red Sox. She was an immediate friend to anyone she met. Gram and Mac loved to make trips to the ocean and play golf as long time members of the Mount Pleasant Golf Club. She was a founding volunteer of the Merrimack Repertory Theatre and spent many years helping with Vermont Special Olympics.

YOU ARE INVITED TO JOIN HER FAMILY ON SATURDAY, SEPTEMBER 3, FOR HER FUNERAL MASS AT THE IMMACULATE CONCEPTION CHURCH, 144 EAST MERRIMACK ST., LOWELL AT 10 A.M.
ARRANGEMENTS BY THE MCDONOUGH FUNERAL HOME, 14 HIGHLAND STREET, LOWELL 978-458-6816.
BURIAL WILL BE HELD PRIVATELY AT ST. PATRICK CEMETERY.
IN LIEU OF FLOWERS, MEMORIAL CONTRIBUTIONS CAN BE MADE TO THE NURSE ADVANCEMENT FUND AT NEW LONDON HOSPITAL, C/O DEVELOPMENT DEPT., 273 COUNTY RD, NEW LONDON, NH 03257