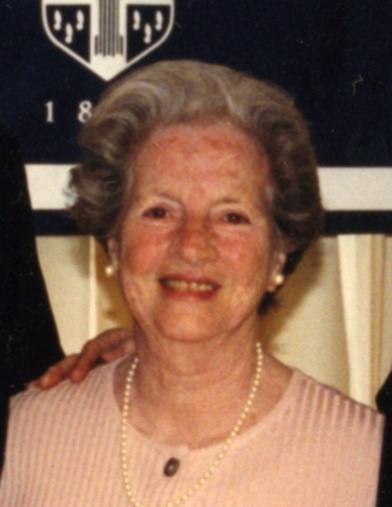 Virginia Marie MacLellan
TEWKSBURY Virginia Marie "Ginny" (McDonough) MacLellan, 87, of Tewksbury, passed away at the home she loved after a brief illness, on Monday, April 28, 2014. She was the widow of the late Allan D. MacLellan, Sr. to whom she was married for 38 years.
A daughter of the late John L. and Margaret E. (Moloney) McDonough, she was born September 9, 1926, in Lowell, and was a graduate of Saint Peter's School, Notre Dame Academy, Class of 1944, and the Beacon Institute of Podiatry, Boston in 1947. She practiced as a podiatrist in Lowell, prior to having her family.
A longtime resident of Tewksbury, she was a daily communicant of Saint William's Church. Ginny was very dedicated to her family members; they were her greatest joy. She was also loved by her neighbors who were so very good to her.
She is survived by her seven children: Allan D. MacLellan Jr. of York, ME, the Reverend Iain Grant MacLellan of Saint Anselm Abbey in Manchester, NH, Sarah Harrington and her husband, Neil of Salem, Roderick D. MacLellan of Lowell, Laura MacLellan of North Andover, Amy LaVallee and her husband, Marc of Salem, and Jane Rohan and her husband, Christopher, of Norwell; her twelve grandchildren, Allan Iain MacLellan, Mary MacLellan Fulmer, Elizabeth MacLellan, Douglas MacLellan, Sarah Harrington Goodhue, Grace Harrington, Maeve Harrington, Hugh Harrington, Caroline Rohan, Anne Rohan, Katherine Rohan and Emily Rohan; two great-grandchildren, Jacqueline and Juliet Fulmer; her beloved sisters-in-law: Loretta Grogan, Margaret Berube, Sarah MacLellan, and Ann MacLellan; and more than sixty nieces and nephews and their respective families whom she loved. The family thanks especially Viviane Alemao who helped the family care for her at home.
She is predeceased by her siblings, Margaret Rynne, John L. McDonough, Elizabeth Lynch, Eleanor Wilson, Joseph McDonough and Constance McInerney.

YOU ARE INVITED TO HER CALLING HOURS ON FRIDAY MORNING, MAY 2, AT THE FARMER AND DEE FUNERAL HOME, 16 LEE ST., TEWKSBURY FROM 8:30 UNTIL 10:30 A.M.. HER FUNERAL MASS WILL TAKE PLACE AT 11 A.M. AT SAINT WILLIAM'S CHURCH, 1351 MAIN ST., TEWKSBURY. BURIAL IN TEWKSBURY CEMETERY. MEMORIALS IN HER NAME TO THE ALLAN D. MACLELLAN SR. MEMORIAL FUND, SAINT ANSELM COLLEGE, 100 SAINT ANSELM DRIVE, MANCHESTER, NH 03102-1310. ARRANGEMENTS BY THE MCDONOUGH FUNERAL HOME 978-458-6816. E-CONDOLENCE SITE WWW.MCDONOUGHFUNERALHOME.COM