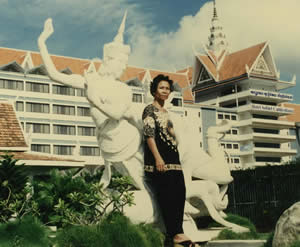 Soeum Bun
LOWELL Soeum Bun, 74, of Lowell, died unexpectedly Saturday, June 9, 2012 at her home.

She was born December 1, 1937 in Battambang, Cambodia. She was a farmer in Cambodia until the war when she escaped to Thailand, then to the Philippines, and later to America settling in San Diego where she lived until she became ill and moved to her daughters home in Lowell.

She is survived by a daughter, Samin Suop of Lowell; a granddaughter, Chantan Yon of Lowell; three grandsons, Samonn Som and his wife, Veda of Lowell, Sameth Som of Lowell, and Dominick Vor of Lowell; six great grandchildren; a sister, Lotch Bun and her husband, Soeum Duong of San Diego, CA; and many nieces and nephews.
YOU ARE INVITED TO HER VISITATION STARTING AT 3 P.M. ON THURSDAY, JUNE 14 AT THE GLORY BUDDHIST TEMPLE, 24 CAMBRIDGE STREET, LOWELL, MA 01852. ON FRIDAY, JUNE 15, A FUNERAL PROCESSION WILL BEGIN FROM THE GLORY BUDDHIST TEMPLE AT 8:30 A.M. TO LINWOOD CREMATORY, 41 JOHN WARD AVE, HAVERHILL, MA 01830. ARRANGEMENTS BY THE MCDONOUGH FUNERAL HOME, 14 HIGHLAND STREET, LOWELL, MA 01852. 978-458-6816. PLEASE VISIT WWW.MCDONOUGHFUNERALHOME.COM TO SEND THE FAMILY AN E-CONDOLENCE.