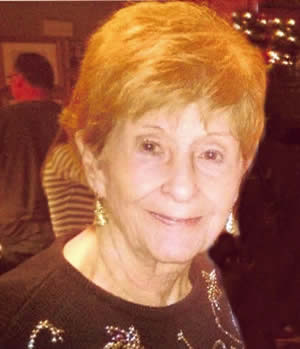 Rita M. Roper

HUDSON, NH Rita M. (Almeida) Roper, 82, of Hudson, formerly of Lowell, died Thursday January 16, 2020 at her home after a long illness surrounded by her daughters and her grandson, Bryan. She was the widow of Robert H. Roper who passed away in 2018 shortly after they celebrated their 60th wedding anniversary on September 8, 2017.

Born July 29, 1937 in Lowell, she was a daughter of the late Joseph R. Almeida and the late Rita M. (Demers) Almeida. She grew up in Lowell, and was educated at the Butler Jr. High, and went on to graduate from Lowell High School with the class of 1956. During her high school days she was an accomplished baton twirler and lead majorette at Lowell High School.

She was a longtime resident of the Highlands section of Lowell, where she was a communicant of Saint Margaret of Scotland Parish. She was a member of the PTA while her children were young, and later worked as Para Professional in the Lowell School System from 1978 until her retirement in 2005. She specialized in special education and preschool, and over the course of her professional career she touched the lives of countless children and their families, this will be her lasting legacy.

She is survived by her 5 children Robert F. Roper of Lowell, Stephen A. Roper of Fitchburg, Michael J. Roper of Leominster, Sharon M. (Roper) Desrosiers of Hudson, NH, Tracy A. Rousseau of Townsend; her sister Florence and her husband Donald Crowell of Hudson, NH, and her brother in law William and his wife Marian Roper of North Adams. She also leaves her 14 Grandchildren, Courtney Colcord, Tiffanie Siopes, Brittany Cotreau, Alexandra Roper, Brandon Hammond, Lindsay Roper, Stephen Roper, David Desrosiers, Bryan Desrosiers, Michael Magee, Brianna Rousseau, Tyler Rousseau, Morgan Rousseau, Ava Rousseau; 11 Great Grandchildren, Kiarha Roper, Aaliyah Colcord, Kaden Colcord, Amber Gauthier, Vienna Cotreau, Domenic Cotreau, Jenna Magee, Ariel Ahearn, Abbie Ahearn, Emma Ahearn, and Adilynn Dodge-Rousseau. In addition she is also survived by several nieces and nephews. The family would like to thank their Aunt Flo and Uncle Don as well as their five children for all of the love, help, and support they have given during this difficult time.

She was the grandmother of the late Jennifer Roper, and was predeceased by her siblings Joseph P. Almeida, Jane Tucker and Richard Almeida.

YOU ARE INVITED TO HER VISITATION FROM 11 A.M. UNTIL 3 P.M. ON SATURDAY JANUARY 25.
AT 3 P.M. HER FUNERAL SERVICE WILL TAKE PLACE IN THE FUNERAL HOME.
MEMORIAL CONTRIBUTIONS MAY BE MADE IN HER MEMORY TO THE SPECIAL OLYMPICS, 1133 19th STREET NW, 12TH FLOOR, WASHINGTON, DC 20036-3604.