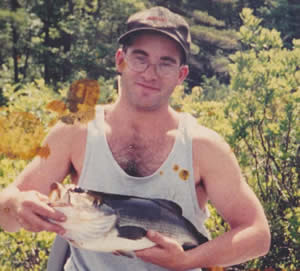 Richard D. 'Ricky' Dinsmore
LOWELL Richard D. 'Ricky' Dinsmore, 42, of Lowell, passed away after a long illness Friday, September 11, 2015 at his home.

Born July 13, 1973, in Lowell, and he the youngest son of Dennis D. Dinsmore, Sr. and Lucille Y. (Desjardin) Dinsmore.

Ricky grew up in Dracut and graduated from GLRVTHS with the class of 1991. He enjoyed working as an electrician for 15 years throughout the Lowell area. He also enjoyed fishing, and spending time with his family and friends.

Ricky is survived by his mother, Lucille Dinsmore; his father, Dennis Dinsmore and his wife, Sherry; two brothers, Jeffrey Dinsmore of Florida and Dennis Dinsmore, Jr. and his wife, Shelby, of Pelham, NH and his niece and nephew, Hannah Dinsmore and Dennis Dinsmore III, both of Pelham, NH.
CALLING HOURS HAVE BEEN OMITTED.
MEMORIAL DONATIONS IN HIS NAME MAY BE MADE TO THE AMERICAN CANCER SOCIETY, 30 SPEEN STREET, FRAMINGHAM, MA 01701.