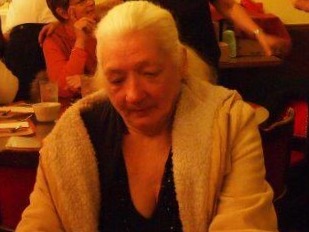 Kathleen A. "Kathy" Mannisto

LOWELL Kathleen A. "Kathy" Mannisto, of Lowell, died unexpectedly at her home on Wednesday, June 24, 2015.

Born on January 5, 1947, in Lowell, she was a daughter of the late William U. Mannisto, and the late Catherine E. (Fitzsimmons) Mannisto. Kathy grew up in Lowell and attended the local schools. As a young woman, she worked in the local shoe shops. She enjoyed taking walks and watching TV, especially QVC. She was an avid collector of porcelain dolls, and often passed the time by playing Pokeno. She was a communicant of the former Sacred Heart Parish.

She is survived by her three sisters, Donna L. Mannisto of Lowell, Patricia M. Giguere, and her husband, Paul L. Giguere, of Dracut, and Mary L. McMahon of Derry, NH. She is also survived by seven nieces and nephews, and seven great nieces and nephews.
YOU ARE INVITED TO HER FUNERAL MASS ON MONDAY AT 11 A.M. AT THE IMMACULATE CONCEPTION CHURCH (LOWER CHURCH), 144 EAST MERRIMACK STREET, LOWELL, MA 01852. ARRANGEMENTS BY THE MCDONOUGH FUNERAL HOME, 14 HIGHLAND STREET, LOWELL, MA 01852, 978-458-6816.
E-mail the family your condolences to:
McDonoughfuneralhome@gmail.com