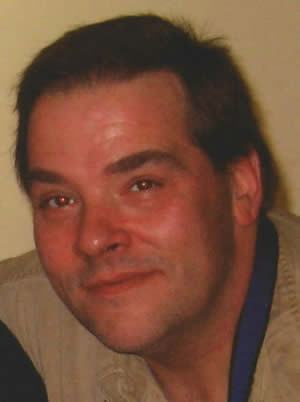 Francis J. 'Frank' 'Junior' Lavigne Jr.
LOWELL Francis J. 'Frank' 'Junior' Lavigne Jr., 49, a lifelong Lowell resident, died unexpectedly, Thursday, July 5, 2012, at Saints Medical Center from injuries sustained from a work related accident. He was the husband to Carolyn (Miele) Lavigne, with whom he would have celebrated their Twenty Sixth Wedding Anniversary this year.
A son of the late Francis Lavigne Sr., and the late Theresa (St. Ours) Lavigne, he was born February 2, 1963, in Lowell, and educated in the local schools.
Mr. Lavigne made his lifelong home in Lowell, and enjoyed camping, fishing, and spending time with his four grandchildren. Frank worked in shipping and receiving on the loading dock.
In addition to his wife, Carolyn, he is survived by his children Jennifer Lavigne of Lowell, Frankie Lavigne of Lowell, and Robyn Rowe and her husband, David, of Lowell; his grandchildren, Kyra Ly-Lavigne of Lowell, Jayla Lavigne of Lowell, Maddison Rowe-Lavigne of Lowell, and David Rowe Jr. of Lowell; his mother in law, Catherine Miele of Chelmsford; his father in law, Frank Miele and his wife, Dorothy, of New Hampshire; his brothers and sisters, Mary and Douglas Wiggins Sr. of Lowell, Doris & Roger Bouchard of Iowa, Roland and Deborah Lavigne of AZ, Pauline and John Sunderland of NH, Janet Boudreau of NH, Paul and Carol Lavigne of Lowell, and Theresa and Kerry Stransky of Iowa; his brother and sister in laws: Irene Collette of Dracut, Kenneth Collette of Tyngsboro, Janice and Tom Grandy of AZ, Gloria and Bill Foley of Andover, Frankie Miele of Lowell, Anthony Miele of Lowell, Billy Miele and Gail Rogers of Lowell, Michael and Jennifer Miele of CHelmsford, and Wayne Miele of Lowell; his special friend, Raymond Kendell of Cape Cod; and many nieces and nephews
He was predeceased by his brother in law Roland Glaude.
YOU ARE INVITED TO HIS CALLING HOURS 4 UNTIL 8 P.M. ON TUESDAY, JULY 10. ON WEDNESDAY, HIS FUNERAL WILL BEGIN AT 9 A.M. AT THE MCDONOUGH FUNERAL HOME, 14 HIGHLAND STREET, LOWELL (978 OR 800) 458-6816. HIS FUNERAL MASS WILL BE OFFERED AT ST. MICHAEL'S CHURCH, 543 BRIDGE ST , LOWELL AT 10 A.M.. BURIAL IN LOWELL CEMETERY. E-CONDOLENCE SITE WWW.MCDONOUGHFUNERALHOME.COM